All-in-One Plus Pack
Regular price
$108.00
Sale price
$134.75
Unit price
per
Introducing the AniBlock Puzzle Challenger.

Smart Block Puzzle AniBlock's new series "AniBlock Puzzle Challenger" has been released.

The puzzle game has 11 differently shaped blocks and many cute and fun patterns. There's so much to do that you won't even realize how much time has passed! 
This puzzle is based on a puzzle game from ancient Roman times.

This game can help children improve their critical thinking skills and problem-solving skills, cognitive skills as it has multiple correct answers for each pattern, unlike many other puzzles that only have one correct answer. That's why the game has been proven to be especially helpful for developing a child's creativity. 
It may be educational, but what if children don't like playing it?
Puzzle Challenger offers 52 cute and fun puzzle patterns that are familiar to children, not random or abstract shapes.
You may even experience a situation where kids are so occupied that they won't look for mom or dad for a long time! 

After a long study, we were able to develop a great way to keep kids interested in using these educational products.
The digital content provided as a dedicated app can lead a child to develop the instinct to achieve his or her strongest goals in life. Children work to complete the puzzle in order to save the friends that are inside each one. 

We have also provided a significant number of additional quizzes for each puzzle pattern consisting of various block combinations.
Some block combinations are so difficult that even parents will have a hard time completing them. Would you like to give it a try?
We have also prepared a paper teaching aid for parents who do not like using smart devices! What do you think of our ideas?
So, what should you buy first? The game comes with 52 puzzle patterns that each have four difficulty levels, so you don't have to spend too much time thinking of what level you should play.  
You can choose in order of difficulty! Don't forget, you will receive more of a discount if you buy two instead of just one!
Single Pack - Choose 1 of 4 Editions
Double Pack - 2 Editions (I + II)
All-in-one Pack - All Editions (I, II, III, IV)
All-in-one Plus Pack - All Editions (I, II, III, IV) with Activity Book
And free Android or iOS app supported
Our product quality and design have already been proven to be successful by accredited organizations and the global market. You can use our product with confidence!
FAQ
Q. What ages is the game designed for?
A. AniBlock Puzzle Challenger is designed to be the most fun for kids from four to eight years old. However, anyone over the age of four can play the game. If your children are having a difficult time solving a puzzle, we recommend filling the space without color divisions.

Q. Can an elementary school student play the game?

A. Each puzzle pattern has different difficulty levels depending on the combination of blocks. Some patterns may even be difficult for parents to complete. This is a game the whole family can enjoy together.


Q. Is it necessary to buy the paper teaching aid?

A. Although we have included some of the paper teaching aid content in the app, the paper teaching aid contains different ways to play the puzzles by drawing the shapes of the blocks. We highly recommend you buy the all-in-one pack.

Q. How is this different from the First Collection?

A. The blocks and block board have not changed. In Puzzle Challenger, the puzzle patterns are organized by difficulty level, so players can experience the fun of completing puzzles in order of difficulty. The new concept app for the game also provides children with a stronger motivation to progress through the different patterns.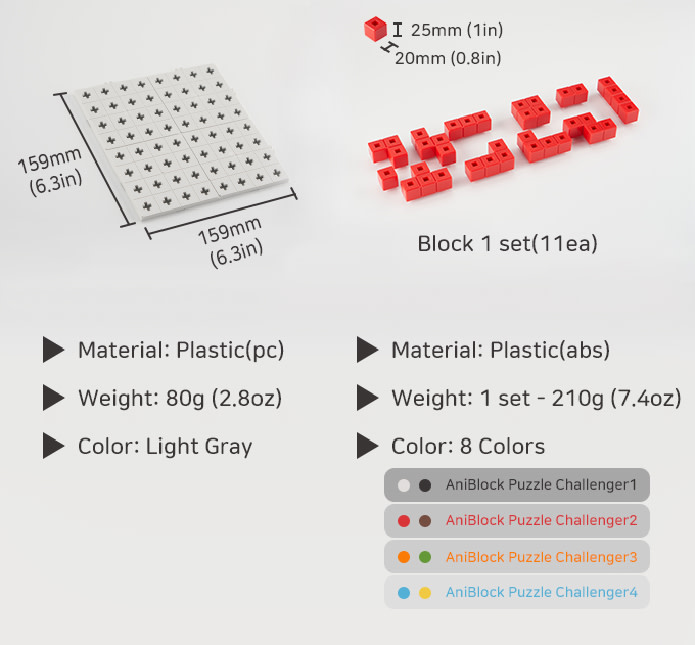 ---